Coronavirus – latest news from West Sussex Council Council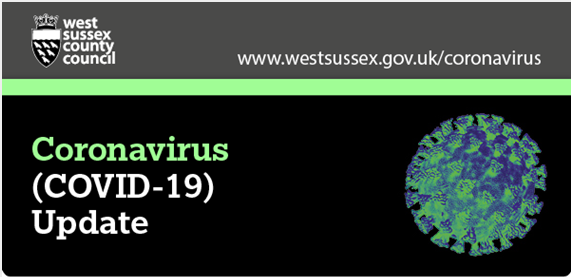 Dear residents and partners,
Big thank you for helping us keep West Sussex Safe. We still need everyone to play their part in preventing the spread of COVID-19.
One of the key elements to understanding where the virus is in the county, is to make sure that if you develop any symptoms you get tested.
Testing is FREE and simple to organise. Visit NHS Coronavirus (COVID-19) or call 119. They will let you know where your nearest testing centre is. Don't forget tests are only available with a pre-booked appointment. Alternatively if you are unable to travel they can arrange to send a test kit to your home.
If you have received a positive COVID-19 test result, then you should immediately self-isolate by staying at home for at least ten days from when your symptoms started. All other household members must stay at home and not leave the house for 14 days.
You'll be contacted by the NHS Test and Trace service if you test positive for coronavirus. You'll be asked where you've been recently and who you've been in close contact with. This is essential to help the NHS contact anyone who may have caught the virus from you and will help isolate any cases to keep the rate of infection low.
Running a business that's open to the public? You may find our template to record contact details useful. Download our printable version from our website here or a digital version here.
Keep safe and thank you for your continued support.
Back to school with confidence
A new webpage has been created to help West Sussex parents and children feel ready and confident to get back to school.
Our Back to School webpage has videos, guidance and key information on the changes put in place to keep all pupils and staff safe, including information on 'bubbles', transport, mealtimes and emotional wellbeing.
Pupils who went back to school last term have recorded a message of reassurance for those who might be feeling nervous. Please do share this new resource with other families.
Support with results
AS and A Level students have opened their results under very different circumstances this year.
While many will be celebrating, as always some won't have achieved the grades they wanted and may be unsure about what to do next.
Help is available from our careers advice service, with trained careers advisors on hand to talk through their options. Young people can call 0330 222 2700 or email careersadvice@westsussex.gov.uk .
Find support with GCSE, A-Level and AS-Level results
County Council's Chairman joins VJ Day celebrations
Tomorrow (15 August), marks the 75th anniversary of Victory Over Japan (VJ) Day.
To mark the occasion West Sussex County Council is supporting The Royal British Legion's programme of activity.
These activities will allow residents to remember and recognise all those who served and sacrificed in the Far East and ultimately brought an end to the Second World War.
The Legion's programme of activities include:
Commemorative service at the National Memorial Arboretum in Staffordshire led by His Royal Highness The Prince of Wales – broadcast on BBC One;
National two minutes silence at 11am;
Activity packs, designed for all ages, to provide an overview of the Second World War focused on the Asia-Pacific area.
In West Sussex, the Chairman of the County Council will be attending a short act of remembrance and reflection, socially distanced, on Saturday at 11am at the War Memorial in Litten Gardens, Chichester, followed by visiting the War Memorial in Petworth, where she will be laying a wreath.