Coronavirus – latest update from West Sussex Council Council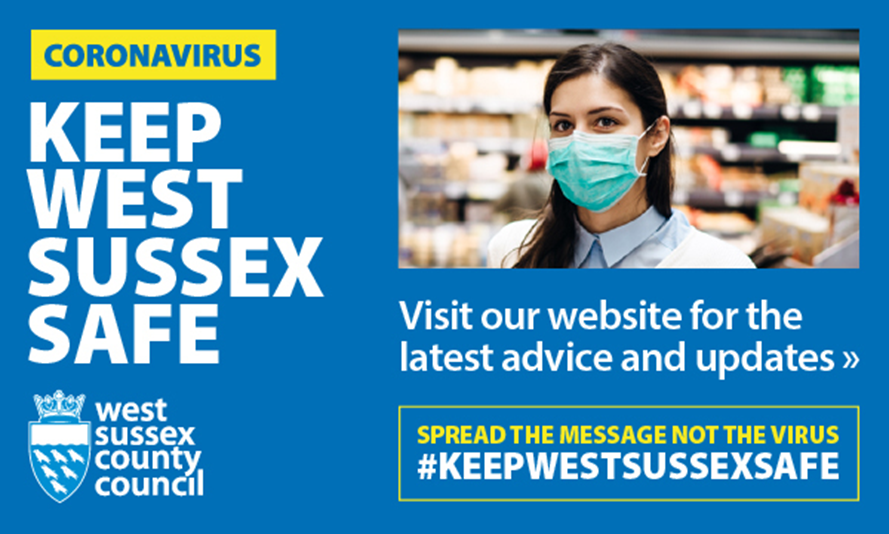 Latest coronavirus figures in West Sussex
In the seven days between 28 September to 4 October, 285 of our residents tested positive.
While the rate of cases per 100,000 population (the weekly incidence rate) remains below the regional and national level, clearly cases are rising. In the period 21 September to 27 September, there were 187 cases across the county.
The seven-day incidence rate varies among our districts and boroughs. Over the period 28 September to 4 October, Worthing had the lowest rate at 23.6 per 100,000 population, and Horsham had the highest rate with 49.2 per 100,000 population. The overall West Sussex seven-day incidence rate was 33.0 per 100,000 population.
A large number of these cases are residents under the age of 24 years (45% of the 285 cases) with a much smaller proportion amongst the 65s or over (12%).
It is important to note that figures are frequently updated (often in the same day) as new test results are added to the dataset. Please continue to follow the national guidance and keep safe.
World Mental Health Day
World Mental Health Day takes place tomorrow (10 October). It comes at a time when our daily lives have changed considerably as a result of the pandemic.
Every Mind Matters offers a range of resources that help spot the signs of common mental health concerns, offers practical self-care tips and guidance and, importantly, explains when to seek further support.
Primary school applications now open
Applications for children due to start primary or infant school in September 2021 have now opened and will stay open until 15 January 2021.
Children born between 1 September 2016 and 31 August 2017 will be eligible to start primary or infant school next September.
Parents of children currently in Year 2 at infant school are now able to apply for a place at junior school for September 2021.
Find your next job with our new career site
Our new and improved Career Site has now launched, enabling a better user experience when searching and applying for our jobs.
Our Career Site includes two distinct job searches: one for all opportunities with the county council and another for jobs posted by our partners.
If you are looking for work as a result of the coronavirus, or know someone who is, please take a look.
Changes to opening hours at our Household Waste Recycling Sites
Winter opening hours have come into effect at our sites on 1 October 2020.
Sites are now open from 9am to 4pm, until 31 March 2021.
There will also be some seasonal changes to the days sites are open.
Residents are advised to check opening days, times, ID and permit requirements online before they make a journey.
Age UK West Sussex, Brighton & Hove launch support for older people
To mark Older People's Day on October 1st Age UK West Sussex, Brighton & Hove launched 'Bags of Support' – an initiative to distribute over 500 cotton tote bags filled with information and goodies to older people locally.
This year's bag was compiled with the pandemic in mind, providing a reusable face mask, hand sanitiser, an activity pack, magazine and other freebies, along with information and advice on the charity's services, including befriending.
Over 50s who need advice or support at this time are urged to contact Age UK WSBH on 01903 731 800 or email information@ageukwestsussex.org.uk.