Coronavirus – latest update from West Sussex County Council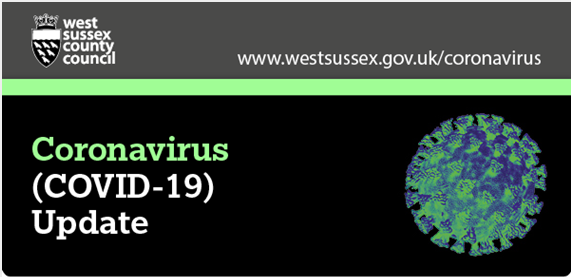 Dear residents and partners,
We are delighted to see that many of our local businesses are planning to reopen from this weekend, following the government's change to lockdown restrictions.
Please be mindful that not all businesses will reopen so help them by checking their website or social media channels to see if they are reopening and, if they are, what measures you will need to follow to keep yourself and others safe.
Lockdown easing comes with risks of further outbreaks. To help us manage any new outbreaks in the county we have developed a 'local outbreak control plan' which includes details about the public health response and what actions businesses and residents might be asked to take – please take a look.
Finally, on Sunday (5 July) at 5pm we will join the nation in wishing the NHS a very happy 72nd birthday, and to say thank you for the incredible work they continue to do every day. We hope you'll find time to show your support as well, as we clap for these key workers.
Keep safe and thank you for your continued support.
Stay safe as pubs and restaurants reopen
Leaders from local authorities, blue light services and health have come together to urge people to stay alert to Covid-19 and avoid placing strain on local services as businesses reopen.
More items allowed at recycling sites
From Monday (6 July) residents will be able to deposit more items at our Household Waste Recycling Sites.
There are still restrictions on certain materials and social distancing rules apply.
Trailers will only be accepted at certain sites.
For full details read our release online.
'Select and Collect' service coming to a West Sussex Library near you!
From Monday (July 6), West Sussex Library service is introducing a 'Select and Collect' service. People will be able to reserve specific titles in the usual way online or by phoning their local library.
These can then be collected from the front of all 36 of our libraries without the need to enter the building.
Birth registrations open for 2,000 West Sussex babies born since lockdown
The Registration Service has restarted birth registration appointments at certain locations across the county.
They anticipate they will need to register in excess of 2,000 births in the coming months, as lockdown restrictions stalled all birth registrations from the end of March.
Help keep our county clean
As lockdown restrictions are relaxing more people are visiting public spaces and areas of natural beauty.
Keep our countryside, beaches and parks clean by taking a bag for your own rubbish in case you cannot find a bin, or the bin is full.
Leisure ideas for this weekend.
Coronavirus updates
Visit our website for the very latest service updates.
Please encourage your friends and family to subscribe to receive these important updates via our registration page.