Coronavirus – latest update from West Sussex County Council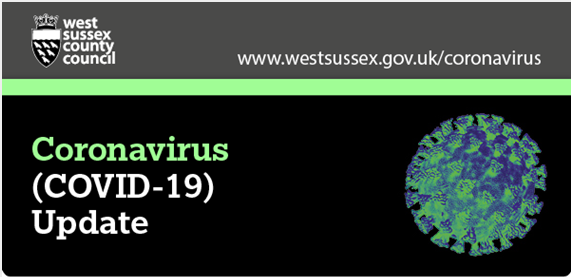 #KeepWestSussexSafe
Dear residents and partners,
To help keep West Sussex safe we are reminding residents of the simple steps to take to stop the spread of coronavirus. Please take a look at the four key recommendations below.
Earlier this week we were notified of an outbreak of COVID-19 at The Downsman pub in Crawley and since then Public Health England has been organising contact-tracing of staff and customers. The full statement on our website can provide you with more information if you, or someone you know, has recently visited the pub.
We are also now publishing weekly data specifically relating to the number of coronavirus cases and deaths in West Sussex. You can find this report in the Local Outbreak Control Plan area of our website.
Construction work starts on the first of our seven temporary cycleway schemes next week. The Chichester scheme will connect the Spitalfield Lane hospital area with the city's railway station, creating a 2km-long "keyworker corridor" for safe cycling. You can read the full article here.
Now that the summer holidays have started, we wanted to let you know that a new programme of services for families, children and young people aged 0-19 (up to 25 with Special Educational Needs and Disability) is now available. Our Early Help service continues to offer support for families during the summer holidays. Contact details for our teams can be found at the end of the programme.
Finally, remember that you can get the latest Keep West Sussex Safe information on our website or by looking out for #KeepWestSussexSafe on our Facebook and Twitter pages.
Thank you for your continued support.
Face coverings
If you can, wear a face covering in enclosed public spaces where social distancing isn't possible and where you will come into contact with people you
do not normally meet.
You must wear a face covering at all times on public transport, when attending a hospital as a visitor or
outpatient, and from today (Friday 24 July), when in shops and supermarkets.
Face coverings do not replace social distancing.
Find out more about face coverings, including how to make your own.
Getting tested
If you have any symptoms of COVID-19, you should get tested.Visit nhs.uk/coronavirus or call 119.
Tests are free of charge.
Symptoms include a new continuous cough, a high temperature or a loss of, or change in your sense of taste or smell.
If you develop these symptoms, however mild, or you have received a positive COVID-19 test result, then you should immediately self-isolate by staying at home for at least seven days from when your symptoms started.
All other household members must stay at home and not leave the house for 14 days.
If you have symptoms, get tested.
Keep hands clean
Wash your hands with soap and water more often than usual, for at least 20 seconds, using hand sanitiser if soap and water are not available.
You should always wash your hands or use hand sanitiser after coughing, sneezing and blowing your nose, before you eat or handle food, and when you get to work or arrive home.
Find out the best way to wash your hands.
Practise social distancing
Keep two metres away from people or at least one metre when you can take other precautions, such as wearing a face covering or not sitting face-to-face
with someone.
If you go out to enjoy the West Sussex countryside, open spaces or parks, observe good social distancing and please remember to take your litter home.
Get more information on when you should be social distancing.