Coronavirus – latest update from West Sussex County Council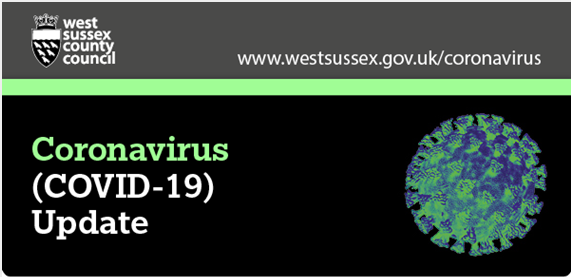 Dear residents and partners,
We are expecting our roads to be far busier when schools reopen in two weeks, so we are encouraging residents to think about using other forms of transport.
If you do drive, or if your child uses a public or school bus, taxi or minibus – there are some important changes that have been made to keep everyone safe. It's important you know how these affect your journey – so please read the transport section of our Back to School webpages. There you will find videos and information on things like the use of face coverings, and all the measures being undertaken to keep West Sussex schools safe.
Our Keep West Sussex Safe campaign continues to run and we encourage residents to keep visiting our webpages for the very latest information on how to reduce the spread of the coronavirus.
Keep safe and thank you for your continued support.
Special Recognition Volunteer Award: nominations now open
The High Sheriff of West Sussex has launched a unique award to celebrate residents who have shown exceptional acts of kindness during the coronavirus pandemic. The Special Recognition Volunteer Award is aimed at any resident in West Sussex who has acted in a voluntary capacity throughout lockdown and beyond.
Nominations can come from those who have either received support or have observed a volunteer doing great things for others. To be eligible for the award, the following criteria needs to be met:
the candidate must demonstrate outstanding voluntary activity in the community to support individuals or groups;
the candidate has shown selfless acts of thoughtfulness and kindness;
the candidate's voluntary acts have benefited the community, particularly during the pandemic;
the nominator must demonstrate why the care given has been so remarkable and special.
All individuals who are nominated will be acknowledged and those that are successful will receive a special certificate. If restrictions are lifted, they will also be invited as special guests to join the High Sheriff at a prestigious celebration event in 2021. The closing date for the award is Wednesday 30 September. Nominations are open now and the nomination forms can be requested by email to: hswestsussex2020@icloud.com.
West Sussex Libraries are now open for browsing
​All 36 West Sussex libraries are now re-open for customers to browse the shelves (in small numbers to allow for social distancing) and for a limited IT Service (which needs to be booked in advance through your local library).
The 'Select and Collect' service, which started in July, will continue running as normal.
Give your bike a check-up before taking a ride on our first temporary cycleway
A free, bicycle "health" check is being offered to mark the completion of the Chichester temporary cycleway on Tuesday (25 August). The "Dr Bike" gazebo will be set up in the Northgate car park, near the new cycleway, from 11am to 1pm.
Experienced cycle trainers and mechanics will be on hand to check brakes, gears, tyre pressures, lights, and so on.
West Sussex Record Office has re-opened to the public
​This week, the West Sussex Record Office Searchroom has re-opened for pre-booked appointments on Tuesdays and Wednesdays. There will be two and a half hour slots available either in the morning (9.30am-12pm) or afternoon (2pm-4.30pm).
Fire Service holds first Virtual Open Day
A firefighter PE class, tours of fire engines, mock incidents and a welcome from the Chief Fire Officer – that was all part of West Sussex Fire & Rescue Service's first Virtual Open Day on Saturday.
The online event was held on the fire service's Facebook page.
The videos posted by the fire service during the event have already been viewed more than 16,000 times.
Highlights from the Virtual Open Day can be found on Facebook, and YouTube.
Cabinet Minister visits tourism venues to hear of COVID-19 challenges
West Sussex visitor attractions welcomed a visit from the Secretary of State for Department of Digital, Culture, Media and Sport this week so he could hear first hand the challenges being faced by the tourism industry in light of the COVID-19 pandemic.
Oliver Dowden took part in a round-table discussion with business leaders at Butlin's Resort in Bognor Regis, focusing on the impact of COVID-19 on the tourism sector, how the summer season is going for businesses and the measures being taken to keep visitors safe, and the ways the government can help the industry in the coming months.
Statement of Accounts now available
The Council's financial results for 2019/20 were reported to Cabinet on 26 May 2020. The unaudited financial accounts for 2019/20 were published on our website yesterday.
View the Statement of Accounts.
Remind yourself of the best way to wash your hands.
Check that you know when you should be social distancing.
Read the latest guidance on face coverings, including how to make your own.