Coronavirus – latest update from West Sussex County Council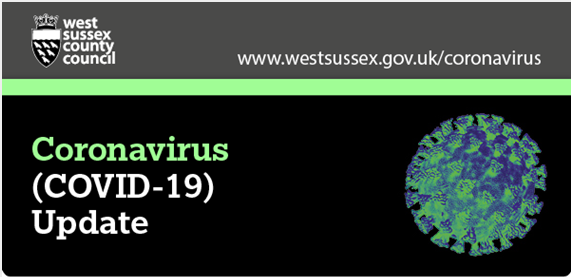 Dear residents and partners,
So far in West Sussex we have had a relatively low number of cases of Coronavirus. That is mainly thanks to you for continuing to follow the government guidelines on regular handwashing, wearing face coverings, social distancing and getting tested.
However we have seen an increase in recent weeks in the number of people who have tested positive for Coronavirus.
We have to continue to do all we can to keep the numbers as low as possible. It means taking preventative action to stop the spread of the virus including regular handwashing, practising social distancing, wearing a face mask when appropriate and getting tested when you have symptoms.
Our website has the latest guidance and information on how to prevent the spread of the disease and what we will do in the event of an outbreak in West Sussex. We really hope we won't have to implement these plans, but we are ready to act if we need to.
We'll continue to monitor all our cases in West Sussex and publicise key messages about how people can help us to control the virus. The Keep West Sussex Safe information campaign is running across the county with a particular focus where there are areas of concern.
As restrictions continue to relax and guidance changes, it is inevitable that there are questions about what you can and can't do, especially when it comes to gatherings and spending time with people outside of your household.
We have heard this week that social gatherings of more than six people will not be allowed in England from Monday 14 September. This will apply in any setting, indoors or outdoors. This single measure replaces both the existing ban on gatherings of more than 30 and the current guidance on allowing 2 households to meet indoors. There will be some limited exemptions. For example, if a single household or support bubble is larger than 6, they can still meet up.
Please continue to follow these guidelines. We appreciate how hard it has been not to see friends and family in the way we are used to, but there are ways to be in touch and stay safe at the same time. We are very grateful to all residents for their continued efforts to ensure the county remains safe. We have done so well to control the spread of COVID-19 in West Sussex up until now. Please help us to keep it that way.
Let's avoid a local lockdown and keep West Sussex safe.
Stephen Horsley
Director of Public Health
Hand washing
Wash your hands with soap and water more often than usual, for at least 20 seconds, using hand sanitiser if soap and water are not available
Social distancing
You should avoid close contact with anyone outside of your household or support bubble and practise social distancing.
You should try to stay 2 metres apart, but when this is not possible then stay at least 1 metre apart and consider taking these steps
Wear a face covering
Sit next to rather than face-to-face to someone
Keep the time you spend doing this to a minimum
Face coverings
If you can, wear a face covering in enclosed public spaces where social distancing isn't possible and where you will come into contact with people you do not normally meet.
Further information on when you need to wear face coverings, exemptions, and how to make your own face covering can be found on the GOV.UK website.
Test and trace
If you have any symptoms of COVID-19, you should get tested. You can also visit NHS Coronavirus (COVID-19) or call 119.
Full details visit our Coronavirus pages on our website.
Solar together scheme
A council-supported scheme is giving residents in West Sussex the chance to install high quality solar panels on their homes at a reduced cost.
Householders can register their interest in Solar Together Sussex during September, giving details of their roof size and position.
Updates on our Household Waste Recycling Sites
Household Waste Recycling Sites in West Sussex are starting to open up more fully, with most sites now accepting trailers.
Before making a trip please read our latest information on how each site is operating. Please note our Crawley site remains closed following a fire.
Time for a new career?
As the job market changes you or someone you know may be thinking about working in a new sector. One area to consider is care work. Care is perfect for anyone that loves people and wants a rewarding job that offers long-term career opportunities.
Watch the new Proud to Care video to find out what's so great about a career in care.
Concessionary travel change
From the end of October, we will no longer include a free Senior Railcard as an alternative to the Older Person's Bus Pass. People will have until 31 October 2020 to apply for the free Senior Railcard option instead of the bus pass.
There are no changes to the free Disabled Person's Railcard alternative to the Disabled Person's Bus Pass, which will remain as an option for anyone with a qualifying disability.
West Sussex COVID-19 weekly case update
A weekly update report with local data is available on our website.