Coronavirus – latest update from West Sussex County Council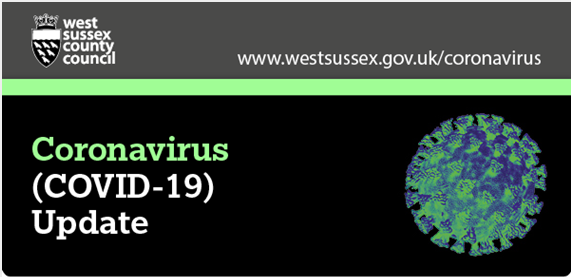 Dear residents and partners,
The new NHS COVID-19 app launches today. It allows you to report symptoms, order a coronavirus test, and check into venues by simply scanning a QR code.
We're encouraging all residents to download the new app to help prevent the spread of coronavirus in West Sussex.
Some of our businesses, such as restaurants and pubs, will be legally required to display a QR code poster for you to scan. This means that if you visit the venue and later test positive for coronavirus, other app users who were there at the same time may be sent an alert, if necessary.
The app does this while protecting your anonymity. Nobody, including the government, will know who or where a particular user is. Instead, your postcode district (the first part of your postcode) helps the app work out where the virus is spreading.
Without a vaccine or treatment, we all need to do everything we can to help stop the spread of coronavirus in our county. The new app is an important part of the government's programme. By downloading and using the app, you'll be helping to protect those around you – friends, family, colleagues and local communities.
More information about the app is available on the GOV.UK website.
Earlier this week, the Prime Minister announced new guidelines to help reduce the spread of coronavirus. Please ensure you are following the rules – you can remind yourself of the very latest guidance online.
Finally, a reminder that our community hub service is still running for elderly and vulnerable residents who may need extra support during this difficult time. If you, or someone you know needs extra help please visit our community hub page.
Thank you for your continued support.
Thank you for recycling – keep it going!
New figures released to mark national Recycle Week (21-27 September) show that 53% of items you throw away are now recycled – a new record.
To help boost recycling rates further please remember that your recycling should be:
CLEAN – free from food and drink leftovers.
DRY – keep your recycling bin lid shut – soggy paper and cardboard can't be recycled and can clog up our sorting machines.
LOOSE – not tied up in plastic bags.
Update on Wedding Ceremonies in West Sussex
Based on tighter lockdown regulations, from Monday 28 September, only 15 people will be allowed to attend wedding ceremonies, to include the couple, witnesses and guests. We have been informed that this number does not include the registrars, venue staff and photographer (correct at time of writing).
All county council ceremony rooms hold less than 15 people to account for social distancing, so the latest government restrictions do not affect this.
The number of people at small wedding receptions will also reduce from 30 to 15 people.
Over 400 babies born during pandemic still to be registered
Parents are being reminded to register the births of their babies, after registrations were put on hold during lockdown.
Currently, there are over 400 babies who have still not been registered, alongside more than 500 babies who have been born in the last six weeks.
The appointments system is currently very busy, so parents are encouraged to book their baby's birth registration as soon as possible.
Support bubbles
A household with only one adult in the home can form a 'support bubble' with one other household of any size.
They can think of themselves as one household and have close contact as if they lived together. Once you have formed a 'bubble' you shouldn't change it.
Continue to follow social distancing guidance with people outside of your household or support bubble. This is critical to keeping you, your family and friends as safe as possible.
We suggest checking regularly for updates.
Further guidance is available online.
Flu fightback
This year it's vitally important to get a flu jab to protect the most vulnerable and reduce the number of people needing flu treatment.
Contact your GP or pharmacy.
Nine out of ten children back in school
Schools began to reopen nationally from 4 September and attendance across the county has been encouraging.
Figures from schools showed that attendance from 14 to 23 September was at an average of 89.1% – above the national average.
For those children who aren't able to be in school, teachers are working hard to ensure their access to learning continues.
Find support for young people struggling with the return to school.