Coronavirus – latest update from West Sussex County Council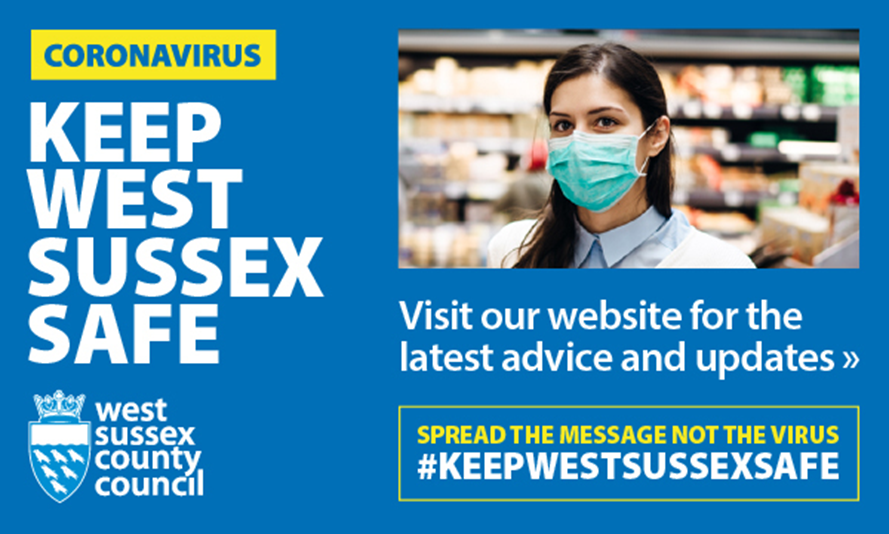 Latest coronavirus figures in West Sussex
Cases in West Sussex have risen slightly in the past week.
There were 539 new confirmed cases in West Sussex in the seven days up to Saturday 05 December.
This is 62.4 per 100,000 population (all ages).
Our covid-19 data dashboard is available on our website, showing information about the number of cases in local districts and boroughs as well as at county level.
West Sussex is currently in Tier 2 'High Alert' and this is being reviewed by Government next week.
You can familiarise yourself with the restrictions in full by visiting the GOV.UK website.
Remember: Hands. Face. Space.
Thank you for your continued support.
Christmas bubbles
Local tier restrictions will be relaxed between Wednesday 23 and Sunday 27 December, to enable family and friends to form 'Christmas bubbles' of up to three households if they want to. Clear guidelines for Christmas bubbles are explained on the Government website.
We must each continue to take personal responsibility to limit the spread of the virus and protect our loved ones, particularly if they are vulnerable. If you are clinically extremely vulnerable you can still form a bubble, but it does involve greater risks for you. You will minimise your risk of infection if you limit social contact with people that you do not live with.
Travelling between 23 and 27 December
Between Wednesday 23 and Sunday 27 December, you can travel between different tiers and other nations of the UK if necessary, to meet with your Christmas bubble. However, you should not travel if you have any coronavirus symptoms or have been told to self-isolate. And if you do have symptoms, please book a test.
The number of days you need to self-isolate has changed from 14 to 10 days. This comes into affect on Monday 14 December.
The government's rules say you should not travel to see your bubble before Wednesday 23 December or travel back after Sunday 27 December except in exceptional circumstances (for example, if a member of your Christmas bubble develops coronavirus symptoms and you are required to self-isolate).
It's likely that transport routes will be busier than normal, so please:
plan ahead, check for disruption before you leave, and avoid the busiest routes, as well as busy times
avoid making unnecessary stops during your journey
don't share a car with people not in your household or Christmas bubble
where possible, keep your distance from other people when you travel
wash or sanitise your hands regularly
wear a face covering on public transport in England unless you're exempt.
You can find full travel guidance for the Christmas period on the government's website.
Progress on Children's Services and Fire & Rescue Service recognised
Children's Services in West Sussex will remain under the control of the County Council for at least another year in light of progress made; the Department for Education (DofE) has said.
The Council received a statutory direction to place services for Children and Families into a separate Children's Trust following an inadequate Ofsted report back in 2019, and a subsequent report by a children's commissioner appointed by the DfE to look at the Council's work.
As a result of improvements made since then, the Children's Commissioner, and Chief Executive of Hampshire County Council, John Coughlan, said in his recent report that there were 'compelling reasons why a company to deliver children's services functions on behalf of the Council is no longer required' and instead the Council should retain control of its children's services for a period of twelve months pending a review of improvement progress.
Paul Marshall, Leader of West Sussex County Council, said: "This is a significant step for the Council and demonstrates a huge amount of hard work by a great number of people but, more importantly, it is crucial for children and families living in our county."
The news comes shortly after West Sussex Fire & Rescue Service was told that an independent advisory panel set up to support improvement within the service is no longer needed.
The chair of the Independent Advisory Panel for West Sussex Fire & Rescue Service said the service has taken 'significant' steps to improve and 'is moving in the right direction in capable hands.'
Councillor Marshall added: "This Council has not been without its issues and to have such compelling evidence that we are driving forward improvements and making real change is incredibly heartening. Both the Fire & Rescue Service and our Children's Services support us when we are at our most vulnerable and it is vital for our residents that we get those services right. I want to take this opportunity to pay thanks to all our dedicated staff who work tirelessly to support residents and these achievements are testament to their hard work. We will continue to strive for improvements and make the services we provide to the residents we serve the best they can be."
Last minute present ideas
If you've still got some shopping to do, then support your local shops if you can, adhering to the national health and safety guidance to help protect yourself and others. This includes:
wearing a face covering inside any shop or business
keeping a safe distance from people outside of your household
washing your hands or using sanitiser frequently
using cashless payments when possible.
Take a look at 'Shop Sussex' on our Experience West Sussex website to find a feast of festive ideas for gifts and experiences with a local theme.
School travel survey
Do your children go to school in West Sussex? If so, then we want your views on the school run.
Please take part in our quick survey on school travel.
Your views and information will help us make decisions on how to create better, safer and more environmentally-friendly travel.
The survey closes midnight on Sunday, 20 December and we also want older students who get themselves to college or Uni to take part. Click on the link below to take the survey and please forward to any other parents you know.
Have you got questions about domestic abuse?
What is domestic abuse? Does it only happen to women? Who can help?
We're encouraging residents to start talking and asking questions about domestic abuse this Christmas as part of our 'Ask Us Anything' campaign.
We're aiming to raise awareness of domestic abuse and to send a clear message that this type of abuse won't be tolerated in West Sussex.
You can submit your questions anonymously by email: askusanything@westsussex.gov.uk or via social media (using the #AskUsAnything) to the County Council's Community Safety Team. Every question will be answered by our panel of experts on Facebook and Twitter.
Anyone who believes they are experiencing domestic abuse, or is worried about a friend, neighbour or family member, should contact West Sussex County Council's WORTH service by calling 0330 222 8181 or emailing DomesticAbuseServicesCentral@westsussex.gov.uk. Our trained advisors are ready to offer support.