Coronavirus – the latest updates from West Sussex County Council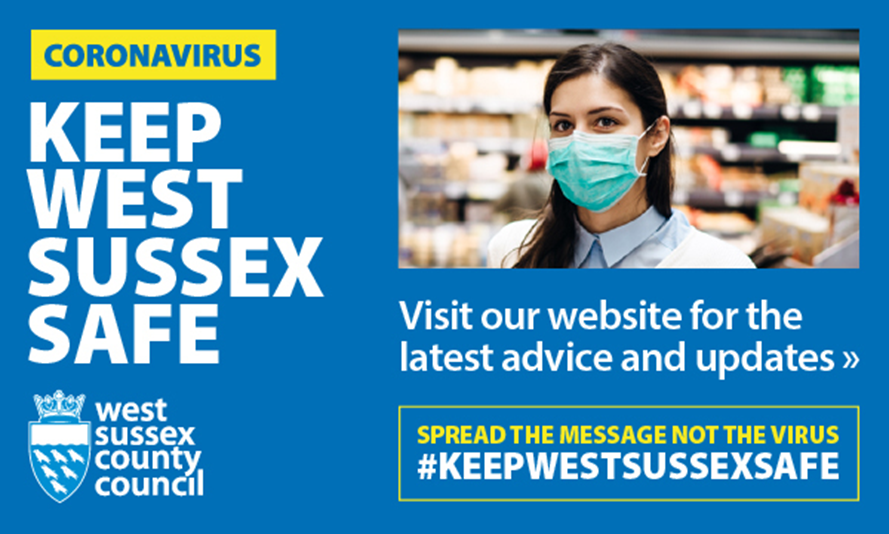 Vaccination rollout latest
The NHS in Sussex continues its rollout of the COVID-19 vaccination – this is the largest vaccination programme ever undertaken by the NHS. The Sussex Health and Care Partnership website has details on the rollout, including when you can expect to get your jab and details of vaccination scams to be aware of.
In order to help elderly and vulnerable people get to their COVID-19 vaccination appointments, concessionary bus pass holders can travel for free in West Sussex before 9.30am from this Monday (18 January).
Concessionary bus pass holders can currently travel free of charge in West Sussex, off-peak – which is weekdays 9.30am -11pm – and all day at weekends and bank holidays. From Monday, this temporary relaxation will allow them to also travel for free before 9.30am.
More information about the county council's bus pass scheme is available here.
Latest COVID-19 figures
National restrictions remain in place. Cases in West Sussex have been rising and although we may have seen a plateau in cases, we must act like we have it to stop the spread.
The latest COVID-19 infection rate across West Sussex, for the seven days up to 9 January, is 640.9 per 100,000. This is still above the national average for England of 622.3 per 100,000.
Latest coronavirus cases for West Sussex.
We cannot let our efforts slip until we have beaten the virus – it is your responsibility to keep yourself and others safe.
Follow National lockdown restrictions and remember:
You cannot leave your home to meet socially with anyone you do not live with or are not in a support bubble with (if you are legally permitted to form one).
You may exercise on your own, with one other person, or with your household or support bubble.
Indoor gyms and sports facilities will remain closed. Outdoor sports courts, outdoor gyms, golf courses, outdoor swimming pools, archery/driving/shooting ranges and riding arenas must also close.
If you think you may have any coronavirus symptoms, isolate immediately and book a test. There is availability at your local walk or drive-through sites that may be closer than you think.
You can book a test online or by calling 119 to get an appointment to visit a test site.
Recover and Rise for local businesses
A series of online workshops aims to give West Sussex small businesses a robust toolkit to survive – and hopefully grow – in 2021.
The West Sussex Recover & Rise in 2021 programme is a series of free workshops, supported by the county council and run by Creative Bloom, Shake It Up Creative and Rume2.
Topics covered include goal setting and business planning, plus critical digital skills like social media, Google Analytics and Search Engine Optimisation.
Every Mind Matters
COVID-19 has impacted the whole country; for almost everyone, life has had to change fundamentally.
Research shows that since the start of the pandemic there has been an increase in a range of mental health conditions for adults, from low wellbeing, sleep problems and anxiety to depression.
To combat this, Public Health England is launching a Better Health – Every Mind Matters campaign to support the nation's mental wellbeing. It includes a free NHS-approved 'Mind Plan' and highlights their COVID-19 hub that includes tips and support on how to deal with change, cope with money worries and job uncertainty and how to look after your mental wellbeing while staying at home.
It also includes practical tips and videos from experts on dealing with stress and anxiety, boosting your mood, sleeping better and what you can do to help others – including advice for parents and for children and young people.
Set aside just one hour a week in 2021 to take free online courses that will not only improve your skills and keep your mind active, but could also boost your future job prospects.
The government has launched a new campaign called 'An Hour to Skill'. The campaign aims to inspire people to spend one hour a week learning online with The Skills Toolkit by highlighting the ease and benefits of accessing free, high-quality online courses.
Fire safety education goes online
With online learning now taking place, West Sussex Fire & Rescue Service has designed a Learning Zone to help parents teach little ones about fire safety.
The Learning Zone is split into Early Years, Key Stage 1 and Key Stage 2 categories, and features a range of activities – such as colouring in, videos and quizzes.
Online help from our libraries
West Sussex Libraries offers a Remote Digital Support Service with volunteers giving basic support in one-off sessions by phone or online.
Some of the things they can help you with are:
General internet searching.
Using email.
Using a device to connect with others, including video conferencing.
Staying Safe Online.
The Library Digital Support Team are available Monday – Friday between 10am and 4pm to take enquiries and arrange for a volunteer to help. They can be contacted by phone on 0330 222 3455 or email library.digital.support@westsussex.gov.uk
Lockdown fire safety tips
Last year, our fire & rescue service attended 514 fires in people's homes.
Therefore, the service is encouraging residents to look out for potential fire risks, which is particularly important as we're all spending more time in our homes due to the pandemic.
The fire service can also give tailored fire safety advice through their free Virtual Safe & Well Visits. To find out if you, or a loved one, is eligible, please visit our website.
Thank you for your continued support.