Coronavirus – update from West Sussex County Council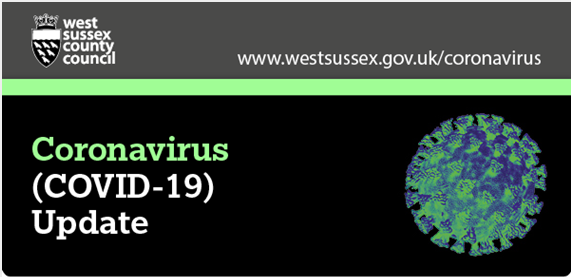 Dear residents and partners,
The number of cases across the county has been increasing over the past few weeks. In the 14 day period of 10 to 23 August 88 people across the county tested positive, compared to 51 people in the period 4 to 17 August.
The overall rate per 100,000 population across the county remains below the England rate.
Over a 7-day period (to 23 August) the West Sussex rate was 6.4 cases per 100,000 compared with a rate of 10.5 per 100,000 across England overall.
Over a 14-day period (to August 23) the West Sussex rate was 10.2 cases per 100,000 compared with 22.5 per 100,000 across England overall.
A weekly update report with local data is available on our website.
As schools are set to welcome students we have put together useful resources on our website to help parents and pupils feel more confident at the start of the new school year. More information is available below.
Our cycleway scheme is now underway with Chichester's being the first to open with more to come. We want your views on the scheme and there is a survey to take part in which is below.
Looking after your mental health while we remain in lockdown is still very important and if you, or someone you know is struggling they can find information and resources on the NHS Every Mind Matters website.
We hope you have a lovely Bank Holiday Weekend and thank you for your continued support.
Back to school – we are ready!
Schools are ready to welcome pupils back when they reopen from next week – are you ready too?
Don't worry, there is lots of useful information for families and students on our Back to School webpages.
However you travel to school, there's guidance – such as the need for children aged 11 and over to wear face coverings on public buses and videos to support younger children.
West Sussex students and teachers have also made a special video for those feeling a bit nervous – and your school will be able to reassure you about the measures they have in place to keep everyone safe.
Visit our Back to School pages.
Share your views on Chichester's cycleway
Chichester's pop-up cycleway is now open. Cyclists are being encouraged to try the cycleway for themselves. Tell us what you think in our survey.
There are seven government-funded temporary cycleways planned for West Sussex. They are an emergency response to increase travel options as part of the Government-led recovery plan from COVID-19 and will create safe space for active travel and encourage people to cycle rather than use the car.
Have you chosen to 'Go Gigabit'?
Residents, and small and medium sized businesses in rural West Sussex areas can benefit from the fastest and most reliable broadband connectivity if they choose to 'go gigabit'.
Thanks to collaboration between the West Sussex councils, more money is now available to pay for gigabit-capable broadband connectivity through the Government's Gigabit Broadband Voucher Scheme.
We've seen high interest and vouchers are moving fast.
Family and friend carers – we want your views
Do you look after a family member, partner or friend in need of support or services because of their age, physical or learning disability or illness?
You could help shape the future of unpaid care in West Sussex for the next five years by taking part in this Carers Support West Sussex online survey and sharing your views.
The survey takes approximately 10-minutes to complete and the closing date is 9am, Monday 7 September.
Annual electric blanket testing events
Due to the coronavirus, West Sussex Fire & Rescue Service is unable to hold their annual electric blanket testing events for 2020.
Last year, over 20% of the blankets that were tested were deemed unsafe – so it is vital that you still ensure your electric blanket is safe to use, especially as the colder months approach.
Read our top tips for looking after your electric blanket.
Help is still available
Our COVID-19 community hub team remains available every day to help our vulnerable residents.
Remind yourself of the best way to wash your hands.
Check that you know when you should be social distancing.
Read the latest guidance on face coverings, including how to make your own.