Coronavirus – update from West Sussex County Council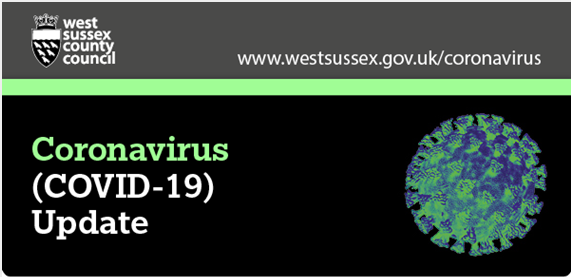 Dear residents and partners,
This week's update includes news regarding our schools, following the Government's announcements on extra funding and an extension to the free school meals voucher scheme.
If you have been doing a lot of reading recently, we have an update from our library service. They are starting to accept returns on borrowed items – more information below.
We also have information on using face coverings on public transport, an update on our Climate Change Strategy and a reminder of where to go for the very latest updates from our services.
Keep safe and thank you for your continued support.
Extra funding for children and schools
Today, the Government has announced a £1 billion fund to help children in England catch up with lost learning during the Covid-19 pandemic.
We welcome the announcement of financial support for our schools who have been working so hard to support children during this time.
We, and our school leaders, are particularly concerned that this generation's children aren't disadvantaged by the impact of COVID-19 and hope this money will go some way to helping with that.
Teachers and staff at our schools in West Sussex have worked tirelessly to support children and we know children, parents and carers have really valued their hard work. We would like to thank everyone working in our schools.
Free school meals extended
The Government this week extended its voucher scheme for children on free school meals to continue over the summer holidays.
It follows a much-publicised campaign by footballer Marcus Rashford, and is very welcome news in West Sussex, where an estimated 12,000 children benefit from the scheme.
Throughout the pandemic we have worked closely with our school meal providers and head teachers to provide hot and cold meals or vouchers to eligible families.
We continued to go above our statutory duties by providing all Year 6, key worker pupils and those classed as vulnerable attending school, with a free meal, where possible.
Library Returns
Our libraries are accepting returns on borrowed items at the library door on the below dates.
Saturday 20 June: 10am to 12pm midday (excluding Midhurst Library)
Tuesday 23 June: 2pm to 4pm
Thursday 25 June: 10am to 12pm midday
There will be no charges for any items that are not returned during this time.
Returning library items – what you need to know.
Climate Change Strategy
A proposed ten-year plan to address and adapt to the challenges of climate change and to become carbon neutral by 2030 will be set out by the County Council next week.
The draft Climate Change Strategy 2020-2030 will be examined by the Environment and Communities Scrutiny Committee at a meeting on Wednesday 24 June.
The meeting can be followed online.
Face coverings exemptions
As of Monday 15 June, face coverings are now mandatory on all public transport.
However please be aware there are exemptions to this so not everyone may be wearing one.
Face coverings should not be worn by children under the age three, or by those who may find them difficult wear.
Coronavirus updates
Visit our website for the very latest service updates.
Help is still available Our COVID-19 community hub team remains available every day to help our vulnerable residents.
Please encourage your friends and family to subscribe to receive these important updates via our registration page.