Coronavirus update – West Sussex COVID-19 News – budget news and more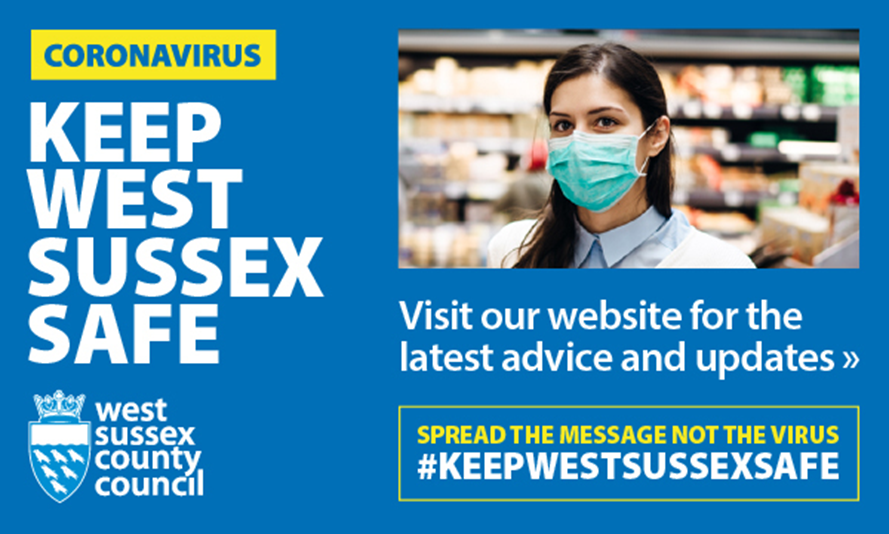 Coronavirus update
West Sussex County Council's response to the pandemic continues at pace. Dr Tony Hill, Interim Director of Public Health, said: "Over the previous week we saw on average around 620 new coronavirus cases per day. Numbers are still high, but very recently they decreased slightly. Whether that's a trend that will continue remains to be seen.
"It really does depend on how much we all continue to abide by the rules and guidance around lockdown; even small changes away from the guidance can have a big impact on increasing numbers.
"Everyone in West Sussex County Council is working extremely hard in responding to the pandemic, keeping our essential services running, and supporting our partners and local communities. I know the majority of people are sticking to the rules, so thank you for doing so and please keep it up."
Click here for more information, including links to the coronavirus case dashboard.
The vaccination programme across Sussex is led the local NHS. A full update is available here on the Sussex Health and Care Partnership website. There you can also watch a short film about the rollout in Sussex. Answers to many frequently asked questions are also available here.
The NHS is reminding people who've received the vaccine that there is still a chance they might get or spread coronavirus. If you have already received the vaccine, it is vital that you keep following the national stay-at-home lockdown restrictions. If you do need to go out, maintain social distancing, wear a face covering, and wash your hands.
Future focus and budget to be agreed by County Council in February
A new plan which sets out what the County Council should focus on in the future, and how it should spend its money, has been endorsed at a Cabinet meeting today (Friday 22 January).
The Reset Plan sets out the key priority outcomes for the council over the next four years and guides how budgets are allocated and performance is measured. The Reset plan is part of the council's improvement journey. It takes learning from the response to Covid-19 and focuses on what is needed most for residents both now and in the future.
The County Council has worked with partners and staff and has considered the views of its residents when putting this plan together.
Today Cabinet also agreed its budget for 2021/22. This will also go to the Full Council meeting on Friday 12 February for final approval.
Read the full story on our website.
Roads info and potholes – tell us what you think!
Keep up to date with the latest news and updates on West Sussex roads – and help us pinpoint potholes by using an improved online pothole reporting form.
Repair and improvement work has continued throughout the lockdowns – more than 20,500 potholes were repaired by West Sussex Highways in 2020 – that's the equivalent of about 390 a week and compares to 16,000 pothole repairs in 2019.
We'd like your feedback on the online pothole reporting form trial which aims to make it easier for residents to use. Click on the 'feedback' link at the top of the website page.
And to keep up to date with everything to do with West Sussex roads and pavements – including gritting and verge cutting a new Highways Residents Newsletter is being launched. Visit our website to sign up, scroll down to 'Roads and Travel' and subscribe to the 'Highways Residents Newsletter'.
New single phone number and email for concerns about children and young people
Work has been underway to design and implement a single telephone number and email address for use by professionals and the public for all concerns relating to children, regardless of risk and complexity.
This will simplify the process for the public and professionals and has been designed to ensure that children's needs are reviewed quickly by a joined up Early Help and Social Care team. This is a positive change in how we ensure that children come first and that we improve the journey of the child in everything we do.
The new contact details which go live on 29 January 2021 are as follows:
Telephone number: 01403 229900
Email address: WSChildrenservices@westsussex.gov.uk
The current telephone numbers we have for our different access points are still in place and from 29 January 2021 these will all be redirected to the telephone number listed above.
Smoke alarm – check it!
Lots more people are spending time at home and this means there is a higher risk for accidental fires in the home.
Make time for your household's unsung heroes – your smoke alarms.
Check that you – and any older or vulnerable relatives – have working smoke alarms on every floor.
Smoke alarms detect fires in their early stages and give you those precious minutes to enable you and your family to leave your house in safety.