NHS Vaccination update – 8 February 2021
More than 10,000 people vaccinated over the weekend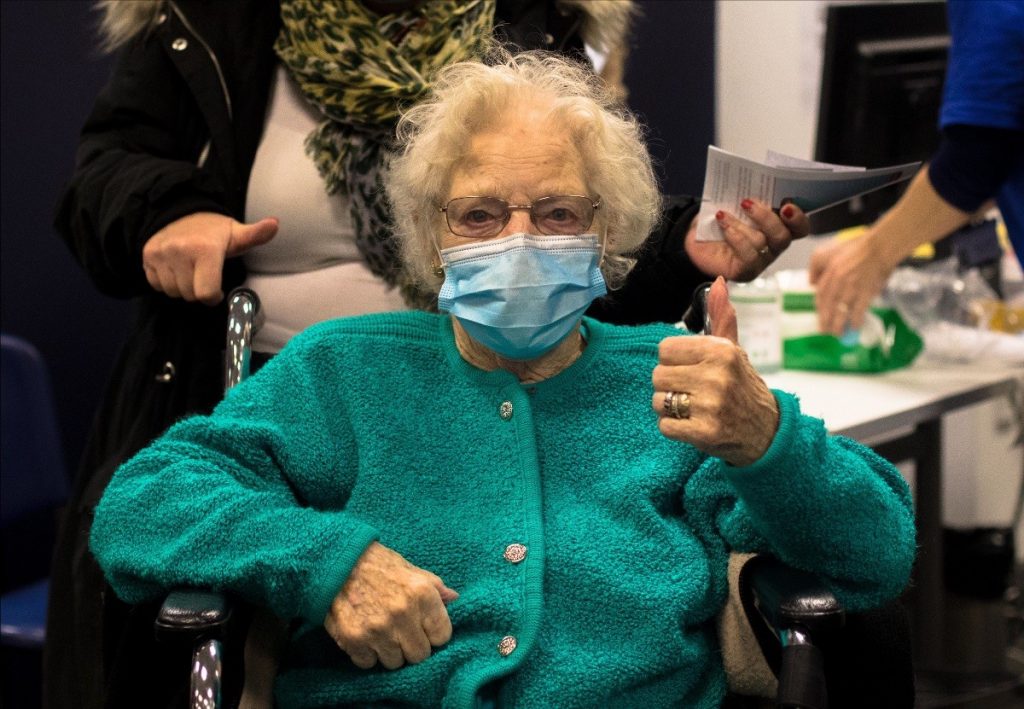 Vaccination services are continuing to make incredible progress across Sussex as they work to have offered the vaccination to all those in the first four priority groups by next week.
This weekend, more than 10,000 people were vaccinated by the teams working Saturday and Sunday in the three vaccination centres, local vaccination services, home visiting teams, pharmacy led services, and hospital hubs.
Overall more than 350,000 people have received this vital protection and many more thousands are due to take place this week.
People aged 70 and over and those who are clinically extremely vulnerable continue to be contacted by their local GP led vaccination services and invited for appointments this week, and also via a letter are being invited to book an appointment at one of the larger vaccination centres or pharmacy led services.
In addition, people who are housebound and are not able to attend a vaccination service are being contacted by the local teams so that a home visit can be arranged.
Thank you to all of the teams working this weekend and all of the hundreds of volunteers who have been working alongside the NHS teams helping to make this possible.
Fantastic effort by GP practices in Horsham as thousands of residents receive vital protection
Over the coming days in these Daily Updates we will be showcasing the work of vaccination services and how they have been working to roll out the vaccine to their local population.
Today we have a correction following the Daily Update on Friday which said that the GP Federation, Alliance for Better Care (ABC) covered the Horsham area. Instead, the incredible efforts in this area have been led by the primary care networks and their respective GP practices: Horsham Central Primary Care Network (Holbrook Surgery, Orchard Surgery, Park Surgery and Riverside Surgery) and Horsham Collaborative Primary Care Network (Cowfold Surgery, Rudgwick Medical Centre, The Courtyard Surgery and Village Surgery).
Both services went live on 15 December and have been vaccinating their registered population, their local care homes and now those patients who cannot leave their home. To date, more than 20,000 patients have been vaccinated across the two PCNs – a credit to all the teams involved.
Watch one of Park Surgery's patients tell his story about receiving his vaccination:
Can I have an allergic reaction to the vaccine?
As with all vaccines, it is possible to have an allergic reaction to one or more of the ingredients. Fortunately, these are very rare with the COVID-19 vaccines.
The vaccines being offered by the NHS have met the strict standards of safety, quality and effectiveness set out by the independent Medicines and Healthcare products Regulatory Agency (MHRA). Any coronavirus vaccine that is approved must go through all the clinical trials and safety checks all other licensed medicines go through. The MHRA follows international standards of safety.
So far, over ten million people have been given a COVID-19 vaccine in the UK alone, and reports of serious side effects, such as allergic reactions, have been very rare. No long-term complications have been reported. Clinical screening before the vaccination is given reduces the risks of any adverse reaction.
Getting your COVID-19 vaccination is one of the best defences against the virus. It should help reduce the rates of serious illness, reduce pressure on the NHS and social care services, and above all, save lives.
Getting the message out
With thousands of people being vaccinated across Sussex we're doing everything we can to make sure we reach the right people to come forward and have their jab.
We are running a comprehensive communications campaign to reach residents to make sure they know who is eligible and how to book.
Our campaign has three strands, 'When will I get my jab?' 'Where will I get my jab?' 'Why should I get my jab?' and 'What happens after my jab?'
Look out for our messaging on social media, in newsletters, in the local media and on displays around key towns. Please help us by sharing these messages and pointing people to them if you are asked.
Alongside the details of vaccinations we are running myth-busting campaigns, frequently asked questions and are responding to key areas of interests or concern where they arise in specific areas.
We're targeting our communications where it's needed; we know not everyone follows us on social media (although they should!) but we're making sure we go to where our communities are. We're working closely with community groups, faith groups and other networks to make sure we not only get our messages out by are responding and reacting to where people have questions or there are barriers to people getting the vaccination, we're running social media advertising across different networks to reach those people who don't naturally look to us for information and we're pushing out more traditional advertising in towns across Sussex as well as linking in with partners to reach other audiences.
We'll continue to evolve and adapt the campaign as more and more people become eligible for the jab. In the meantime please help us spread the word, follow us on Twitter and keep an eye on our website.
Reminder to keep warm at your vaccination appointment
As we continue to experience very cold temperatures this week, we are sharing this key advice for people attending a vaccination appointment.
Please plan for cold weather and the potential for some queuing outside:
dress warmly
try to arrive on time but not early
if you are coming by car and are early stay in your car until close to your appointment time
bring a warm drink in a flask (there are no refreshments at vaccine sites)
Keep an eye on our website, Twitter and Facebook feeds where we will share if there are any changes to local services.
More information
Much more information about the vaccination programme is available on our website, including details of the services available in each area, latest data, stakeholder briefings, answers to frequently asked questions and links to all the national leaflets and materials.
Thank you for your support in helping to keep our local communities updated and informed about this fast-moving and unprecedented vaccination programme.
Find more information about the Sussex COVID-19 vaccination programme