Assembly Room and Ante Room
The Assembly Room and Ante Room were added to the Council House between 1781-1783.
The Assembly Room was built by Thomas Andrews, a local builder, to the design of James Wyatt. It is designed as a double cube with an apse at the east end with four fireplaces, two on each side, each with a niche above. The room was opened in October 1783 and remains one of the few eighteenth-century assembly rooms in the country still used as a place for meetings and concerts.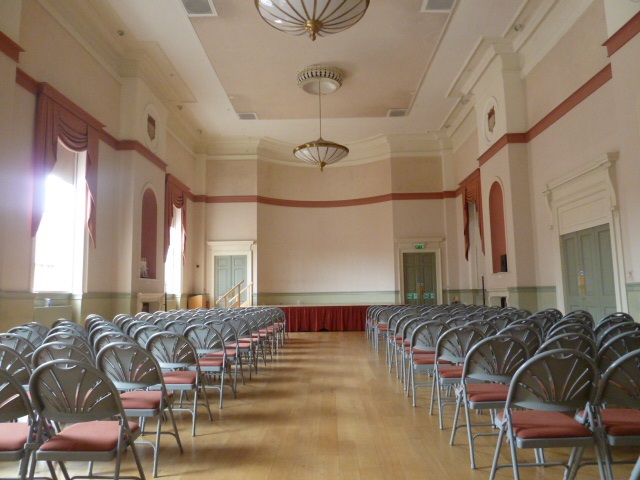 The Ante Room is situated opposite the Council Chamber and leads into the Assembly Room. It has a fine display of paintings by the Smith brothers, John, William and George; who lived in Chichester in the eighteenth century as well as an engraved portrait of the Smith brothers.
This room contains displays of replicas of the City Charters (the original Charters are kept at West Sussex County Council's County Records Office).
The Charters have been issued by various Kings and Queens since 1135 and grant or confirm the status of Chichester as an independent self-governing City.
The Local Government Act 1974 made Chichester City a Parish Council but by Letters Patent of the same year Queen Elizabeth II confirmed the status of a City on the town of Chichester.
This Charter confirmed Chichester's status as a City and its ancient Mayoralty but not its former powers.
The Ante Room also contains displays of:
The Civic Plate and Insignia
Lists of the Honorary Freemen, Freedom Holders of the City of Chichester
A replica of Hubert Le Sueur's Charles I Bust
The Murray Cabinet containing some possessions of Admiral Murray, one of Lord Admiral Nelson's officers
The So Many and So Few displays commemorating pilots who gave their lives during World War 2
The original Charles I Bust once stood in a niche on the Market Cross until its true value was discovered and then moved back to the Council House. Following refurbishment of the Council House, the original Bust was temporarily loaned to Pallant House Gallery then to Tate Britain in London and is now housed in Chichester's Novium Museum in Tower Street..
The bust on the Market Cross is another replica.