The Mayor of Chichester 2023/2024 – Councillor Craig J. L. Gershater
The Mayor's role is to chair Council meetings and represent Chichester at civic events and functions each year, including award-giving receptions and events organised by local voluntary and community groups to name a few.
The Mayor of Chichester for 2023/2024 is
Councillor Craig J. L. Gershater
The Mayoress is Mrs Judy Gershater
The Deputy Mayor is Councillor Maureen Corfield
The Deputy Mayor's Consort is Mr Rob Corfield
The Bailiff to the City of Chichester is Councillor Rhys Chant
The Mayor's Chaplain is Bruno Kondabeka
The Mayor of Chichester is elected by Members of the City Council in May each year and receives an annual allowance of £4,000 (paid in two instalments).
The Mayor is happy to attend events in the City and, by special arrangement, attend functions outside the City boundary. Contact information below.
The Mayor would like to hear of any local resident who is about the reach their 100th birthday.  Please contact the Mayor's Secretary (details below).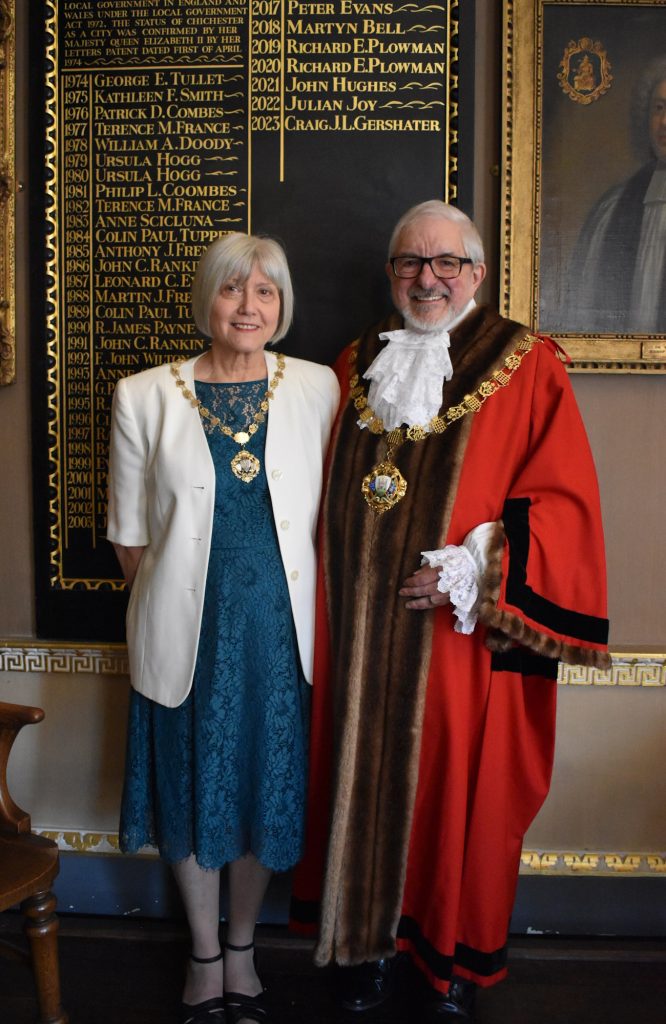 The Mayor continues to support and assist with fundraising for their chosen charities.
This year's Mayoral Charities are:
We have a comprehensive list of our Past Mayors available to view and/or download.
Mayoral Visits
Arrangements for Mayoral visits can be arranged through the Mayor's Secretary by e-mailing mayor@chichestercity.gov.uk, by telephoning 01243 788502 or in writing to:
The Mayor's Secretary, Chichester City Council, The Council House, North Street, Chichester, PO19 1LQ.
The Mayor's weekly engagements diary:
The Mayor in Office becomes a member of many local/national organisations.