The City Council's Coat of Arms was granted by Royal Patent in 1570. The Coat of Arms is officially described as "Argent gutte-de-sang, on a chief gules a lion passant guardant or" or more simply, "Silver with red drops, a straight line not indented, with leopard of England".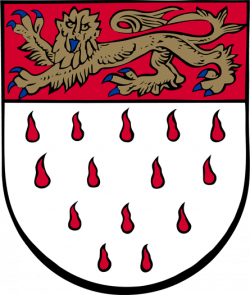 The College of Arms has confirmed that they do not have any historical information available to explain why any of the heraldic emblems have been used on the Coat of Arms.
Only a few organisations in the City are permitted to use the Coat of Arms as their logo, namely the Chichester City Band and the Chichester Judo Club.