Agenda – Finance Working Group – 14 September 2021
Below is the agenda for the Finance Working Group meeting for 14 September 2021.
You can also download a PDF copy of the agenda here: Agenda – Finance Working Group – 14 September 2021
Supporting papers for this meeting are only available in PDF format. Please use the links below to download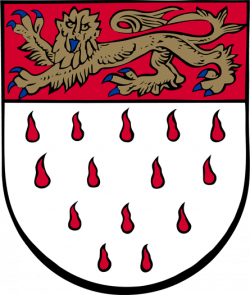 CHICHESTER CITY COUNCIL
The Council House • North Street • CHICHESTER • West Sussex • PO19 1LQ
Tel: 01243 788502
Email: clerk@chichestercity.gov.uk • Website: www.chichestercity.gov.uk
Town Clerk: R Duggua RD BA (Hons)
YOU ARE INVITED TO ATTEND A VIRTUAL MEETING OF THE
FINANCE WORKING GROUP
TO BE HELD ON TUESDAY 14 SEPTEMBER 2021 AT 2.00PM


Town Clerk
AGENDA
1. APOLOGIES FOR ABSENCE
2. TO APPROVE THE MINUTES OF THE FINANCE WORKING GROUP MEETING HELD ON 15 JUNE 2021 (copies previously circulated).
3. DECLARATIONS OF INTEREST BY MEMBERS OF THE COMMITTEE IN MATTERS ON THE AGENDA FOR THIS MEETING
4. UPDATE FROM THE PREVIOUS MINUTES
a. Minute 7(a) – Speed Indicator Device
To note that the Speed Indicator Device has now arrived and Officers are working with community groups and the relevant statutory bodies to put in place a loan scheme for use of the device around the city.
b. Minute 7(b) – Council House exterior works
To confirm that all works are now complete following the completion of the remaining roof repairs after the installation of the additional solar panels; and that the scaffolding has now been removed.
c. Minute 7(d) – Website upgrade project
To note that the new website is now live and completion of the work to make the City Council's published documents accessible is well underway. Once this is completed, the site will be fully assessed for accessibility and a statutory accessibility notice published.
d. Minute 13 – Internal Audit provision
See agenda item 16
e. Minute 16 – Update on investments
Deputy Town Clerk to report
f. Minute 18 – Over the Rainbow funding
Councillor Plowman to report
g. Minute 103(f) – Covid19 Awards
To note that nominations are being received and that the Mayor will be presenting certificates printed by the City Council at the Over the Rainbow event being held on 30 September 2021.
5. REVENUE BUDGET MONITORING TO JUNE 2021
(Copy attached)
Deputy Town Clerk to report
6. EARMARKED RESERVES
(Report attached)
Deputy Town Clerk to report
7. PUBLIC REALM PROJECTS
(Report attached)
Deputy Town Clerk to report
8. MINUTES OF THE PROPERTY WORKING GROUP MEETINGS HELD ON 5 JULY 2021 AND 1 SEPTEMBER 2021
To approve and adopt the minutes of the Property Working Group meetings held on 5 July 2021 and 1 September 2021
Items to note:
a. Salix grant funded improvements
To note that the work supported by the first round of Salix grant funding had been completed, namely installation of the additional solar panel array, replacement of the hand dryers with low energy models and replacement of the remaining light fittings with LED equivalents.
b. Heating controls upgrade
To note that, further to the Property Manager obtaining additional quotes for the proposed upgrade work, an order to the value of £7,500 had been placed with Saunders Specialist Services to replace the radiator valves and upgrade the boiler control system; to be paid from the Council House Reserve.
c. Council Chamber subsidence
To note that work was ongoing concerning suspected subsidence at the front of the building and that a report was being awaited from surveyors Archibald Shaw.
d. Event room hire in the Council House
To note that the ongoing situation regarding room hire at the Council House was proving challenging in the current climate and that creative thinking would be required to help drive income up.
9. CIL INFRASTRUCTURE PLAN – ADDITIONAL ALLOCATION FOR POTENTIAL PURCHASE OF AN ELECTRIC VAN
10. CITY COUNCIL OFFICE CLOSURE FOR CHRISTMAS PERIOD
A decision is required on the closure of the office over the Christmas and New Year period.
The following recommendation is made:
Close at 12pm on Friday 24 December 2021, reopen on Tuesday 4 January 2022
During the closedown period Councillors will be provided with emergency contact details and public notice will be given on the Ward Notice Boards, the City Council's website, Facebook page and Twitter feed.
Deputy Town Clerk to report
11. REMEMBRANCE SUNDAY 2021
Deputy Town Clerk to report
12. VOLUNTEERING CHARTER
(copy attached)
Deputy Town Clerk to report
13. ITEMS FOR INFORMATION ONLY (reports attached)
a. MONTHLY RECONCILIATION WITH EVIDENCE OF BANK STATEMENTS TO END OF JUNE 2021
b. LIST OF PAYMENTS FOR APRIL, MAY AND JUNE 2021
c. LIST OF BARCLAYCARD PAYMENTS FOR APRIL, MAY AND JUNE 2021
14. ITEMS FOR INCLUSION ON NEXT AGENDA
15. PUBLIC BODIES (ADMISSION TO MEETINGS ACT 1960)
Proposal to resolve that the public and press be excluded from this meeting for agenda item 16 and 17 because of the confidential nature of the business to be transacted namely staffing matters.
16. REVIEW OF INTERNAL AUDIT
(Report attached)
Deputy Town Clerk to report
17. STAFFING UPDATE
DATE OF NEXT ORDINARY MEETING: TUESDAY 19 OCTOBER 2021 AT 2PM
(Subject to a decision at Council on 29 September 2021)
To :
Members of the Finance Committee
Councillor Scicluna
Councillor Barrie
Councillor Dignum
Councillor Harry
Councillor K Hughes                       
Ex Officio Members :
The Mayor (Councillor J Hughes)
The Deputy Mayor (Councillor Joy)
Chairman of Planning & Conservation Committee (Councillor Plowman)
Chairman of Community Affairs Committee (Councillor Apel)
The filming, photographing and recording of City Council meetings is now permitted by those members of the press and public attending. This includes the use of mobile devices by those using social media. It would be appreciated if anyone who wishes to do this could let the Chairman know before the meeting commences.
However, these provisions will not apply on occasions where the press and public are excluded from the meeting when confidential matters are discussed.
It is requested that discretion is exercised and nothing done to disrupt or distract the meeting in any way. The Chairman will reserve the right to request that filming/recording ceases if it is having a detrimental effect upon the meeting. If you do not wish to be filmed then please let the Chairman know so that alternative arrangements can be made.