Christmas Campaign – Shop Local!
Chichester District Council has now launched its Christmas, Shop Local campaign.
More information can be found here: Chichester District Council Countdown to Christmas campaign
If you are a local business, you can find more information about the "Support Local" marketing packs by clicking this link.
In these difficult times, it is more important than ever to support local businesses to help ensure that the vibrant local small business environment survives.
Some ways you can help promote this initiative:
You can download a poster for the shop local Christmas campaign campaign here. Please feel free to print this and put it on display to help encourage visitors to shop local.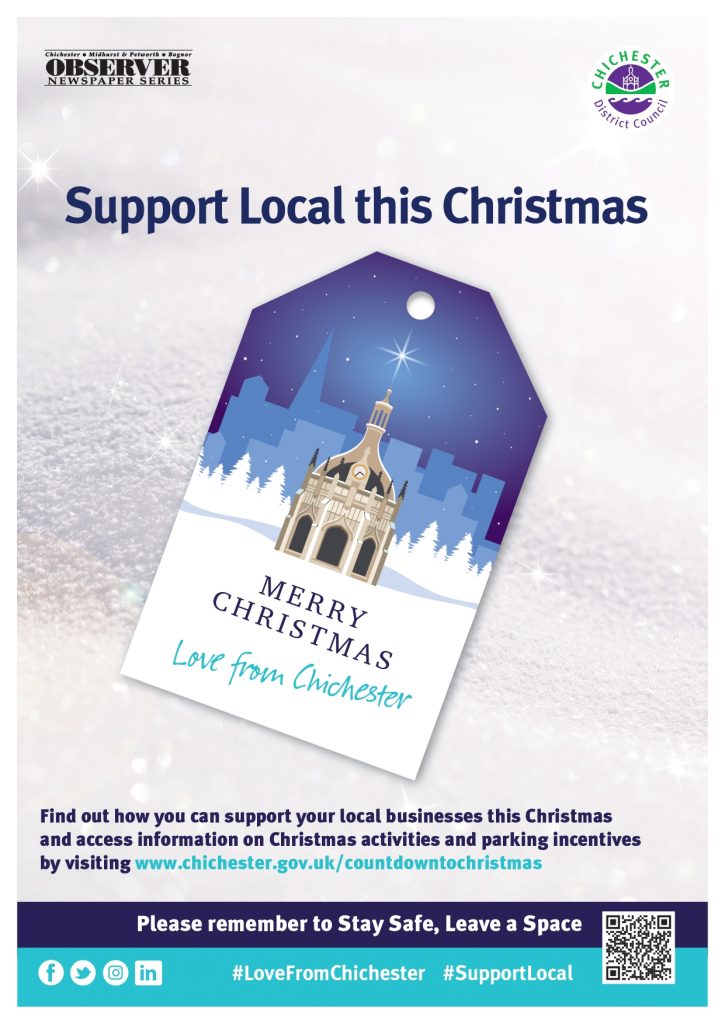 Add our 'support local' Facebook frame to your profile picture and encourage people to do the same
1) If you have a Facebook page please consider applying our support local Facebook frame to your profile picture to show your support for the campaign. This is really simple to do.
2) Click on the camera icon on your profile picture
3) Click on add frame.
4) If you are following the Chichester District Page, scroll down to the section that says Frames from the Pages you like. If not, in the search bar put Chichester District Council and all versions will appear.
5) Select the one you want (e.g. Support Chichester District; Chichester; Selsey; Petworth; Midhurst; or, East Wittering.
Download personalised gift tags
You can also download personalised gift tags for Chichester, Petworth, Midhurst, Selsey and East Wittering from the District Council website now (link at top of this page) and use these on any gifts to promote your High Streets. The idea is that people can then use their personalised gift tag when wrapping a present for someone – highlighting where they bought it from and encouraging people to come and discover what our High Streets have to offer. We also want people to use the below #hashtags to promote where they have been shopping:
#LoveFromChichester
#LoveFromMidhurst
#LoveFromPetworth
#LoveFromEastWittering
#LoveFromSelsey
#LoveFromChichesterDistrict