Agenda – Full Council – 29 September 2021
Below is the agenda for the meeting of Full Council taking place on 29 September 2021.
You can also download a PDF copy of the agenda here: Agenda – Full Council – 29 September 2021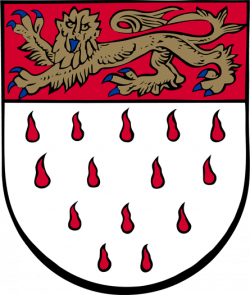 CHICHESTER CITY COUNCIL
The Council House • North Street • CHICHESTER • West Sussex • PO19 1LQ
Tel: 01243 788502
Email: clerk@chichestercity.gov.uk • Website: www.chichestercity.gov.uk
Town Clerk: R Duggua RD BA (Hons)
TO THE MEMBERS OF THE CITY COUNCIL
Members are hereby summoned to attend a meeting of the City Council to be held at 2.00pm in the
Assembly Room on Wednesday 29 September 2021

Town Clerk
22 September 2021
AGENDA
Prayers will be said by the Mayor's Chaplain, Canon David Nason, for those who wish to participate
1. APOLOGIES FOR ABSENCE
2. MINUTES OF COUNCIL
To approve and sign the minutes of the Meeting of Council held on 23 June 2021 (Pages 29-37) and the Special Meeting of Council held on 7 July 2021 (Pages 44-45) (copies attached)
3. MAYOR'S ANNOUNCEMENTS
4. QUESTIONS
To answer questions (if any) from members of the public being residents of the City pursuant to Appendix 1 of Chichester City Council's Standing Orders (September 2020).
5. MINUTES OF COMMITTEES
(copies attached)
(a) Planning and Conservation Working Group 24 June 2021 (pages 38-43)
22 July 2021 (pages 46-49)
19 August 2021 (pages 50-56)
16 September 2021 (pages 76-79)
To consider the following recommendation:
(i) Noise Issues
(minute 49 refers)
It was AGREED to RECOMMEND to Full Council on 29 September 2021 that a new Working Group be set up to tackle the issue of anti-social road use including excessively loud engine noise (to which there are legal limits), in the City and, in particular along the A27.
(b) Finance Working Group 14 September 2021 (pages 70-75)
To consider the following recommendation:
(i) CIL Infrastructure Plan – Additional Allocation for Potential Purchase of an Electric Van
(minute 34 refers)
It was AGREED TO RECOMMEND to Full Council on Wednesday 29 September 2021 that the City Council's CIL Infrastructure Plan be amended to include an allocation for the purchase of an electric vehicle in the sum of £15,000.
 – Property Working Group 5 July 2021 and 1 September 2021
(c) Community Affairs Working Group 6 September 2021 (pages 57-69)
6. CASUAL VACANCY – North Ward update
7. REVIEW OF CURRENT CITY COUNCIL AND COMMITTEE MEETING ARRANGEMENTS
8. CHICHESTER CITY COUNCIL BUSINESS PLAN
NOTICE OF MOTION RECEIVED ON 18 SEPTEMBER 2021 FROM COUNCILLOR SHARP:
"The Chichester City Business Plan is still on hold due to Covid and associated uncertainties. CDC and WSCC face ongoing budget cuts that affect many services. Services which are discretionary risk being given low priority and in other cases services are only being progressed if they involve issues of safety. This may cause some dissatisfaction and puzzlement among residents. As a prelude to any further discussions that may emerge with CDC and WSCC and conscious of the fact that we are now in the third of our four Mayoral years I request that an informal discussion involving Councillors and all staff in the form of a roundtable (unconstrained by agenda papers) be held to enable more wide-ranging discussion of the direction this Council may wish to take. Different ways of financing projects and a wide range of topics should be able to be brought forward with the aim of enhancing the community and the lives of the residents of Chichester. Discussion should also carry with it a realistic expectation of staffing support necessary to make future intentions happen."
9. REPORTS OF REPRESENTATIVES ON OUTSIDE BODIES
To receive reports, if any, from City Council representatives on Outside Bodies
10. WARD REPORTS FROM CHICHESTER CITY COUNCILLORS
To receive reports, if any, from City Councillors about matters affecting their wards
11. REPORTS FROM CHICHESTER DISTRICT AND WEST SUSSEX COUNTY COUNCIL'S WARD MEMBERS – LIMITED TO 3 MINUTES PER SPEAKER
To receive reports from Chichester division members of West Sussex County Council and from Chichester ward members of Chichester District Council, if they consider it to be appropriate.
12. QUESTIONS
To answer questions (if any) from members of Council pursuant to Standing Order 8.
13. COMMON SEAL
The filming, photographing and recording of City Council meetings is now permitted by those members of the press and public attending. This includes the use of mobile devices by those using social media. It would be appreciated if anyone who wishes to do this could let the Chairman know before the meeting commences.
However, these provisions will not apply on occasions where the press and public are excluded from the meeting when confidential matters are discussed.
It is requested that discretion is exercised and nothing done to disrupt or distract the meeting in any way. The Chairman will reserve the right to request that filming/recording ceases if it is having a detrimental effect upon the meeting. If you do not wish to be filmed then please let the Chairman know so that alternative arrangements can be made