PLACE assessment progress
There has been good progress in recent weeks across Chichester in compiling a baseline assessment of the whole city using the PLACE technique.
This is an analytical method that allows groups of residents to record issues that matter to them, all linked to the topics of Planning, Landscape, Architecture, Culture and Engineering (PLACE). These records are compiled by drawing simple maps and writing notes. Assessments take no longer than 2-3 hours. The results will be an important input to the neighbourhood plan.
The completed PLACE assessments are at the bottom of the page.
We are now keen for other neighbourhood groups, resident associations, or other groups of willing volunteers to provide PLACE assessment results for the areas on the attached map yet to be covered. The Neighbourhood Plan Steering Group is keen to have full PLACE coverage of the city by the end of June.
To take part, please email neighbourhood.plan@chichestercity.gov.uk with a brief description of the area you intend to cover so we can add to the map and avoid duplication.
Areas assessed so far – 30 July 2021:
You can also down load a PDF of this map here: Chichester Neighbourhood Plan – PLACE assessment areas covered – 21 September 2021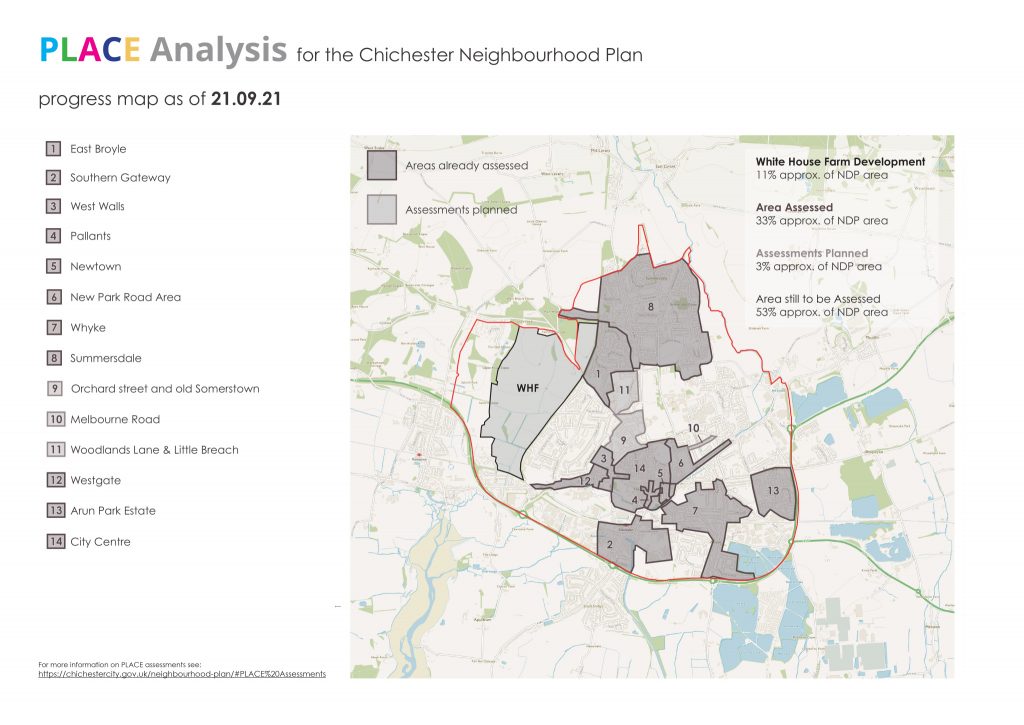 Key messages highlighted so far (only available as a PDF download):
Positive
Negative
Completed PLACE assessments (only available as PDF downloads)