West Sussex County Council – Highways, Transport and Planning update – February 2021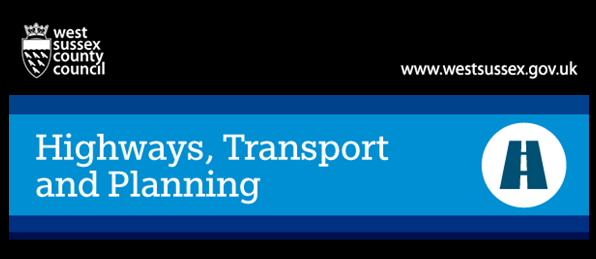 Welcome to our first Newsletter of 2021!
This month, we're launching a Highways Transport and Planning newsletter- just for residents. It would be great if you could spread the word so everyone gets the opportunity to sign up.
Remember, keep up to date with Highways happenings via our Twitter feed.
£64,000 of improvements for pedestrians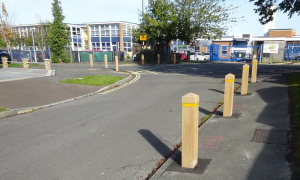 Nine improvement schemes, with pedestrians, schoolchildren and people with disabilities in mind, have been completed in:
Annandale Avenue and The Esplanade, Bognor Regis; Gossops Green, Crawley; Charlwoods Road and Maypole Road, East Grinstead; The Street, East Preston; Burrell Road, Haywards Heath; West Way, Littlehampton; and Ennerdale Drive, Sompting.
The dropped crossing point projects, many with tactile paving for the visually impaired, have been built totalling approximately £64,000.
The improvement scheme approaching Gossops Green Primary School included bollard installation to protect the footway and pedestrians from inconsiderate and potentially dangerous parking.
The school's Deputy Principal, Mark Warwick, said: "Gossops Green Primary school are delighted with the safety measures put in place over the summer by the council. Our children are now much safer coming to school and parents with pushchairs are able to cross the road much more easily due to the dropped kerbs."
This programme of works is part of the £19million worth of improvements taking place on West Sussex's roads and footways between September 2020 and March 2021.
Roads and Potholes – tell us what you think!
Keep up to date with the latest news and updates on West Sussex roads – and help us pinpoint potholes by using an improved online pothole reporting form.
Repair and improvement work has continued throughout the lockdowns – more than 20,500 potholes were repaired by West Sussex Highways in 2020 – that's the equivalent of about 390 a week and compares to 16,000 pothole repairs in 2019.
We'd like your feedback on the online pothole reporting form trial which aims to make it easier for residents to use. Click on the 'feedback' link at the top of the website page.
Tarring rainwater gardens in action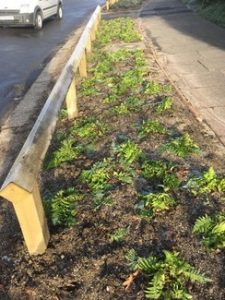 Tarring Flood Action Group has been working on an area of open space near Thomas a Becket (TAB) Junior School, to make an even more attractive environment for local residents to share and enjoy.
The rainwater garden project is ongoing, aiming to mitigate the effects of surface water in the area. Tarring Flood Action Group welcome input and volunteers to help maintain this space.
In addition to the rainwater garden, three raised beds have been installed on the green space, specifically designed to absorb excess water. With large soakaways, surface water can be absorbed and then used by plants to prevent potential flooding. Local residents, including children, will be involved in the project.
Tarring Flood Action Group has planted over 150 bulbs and looks forward to seeing the results in the next few months.
WSCC's Operation Watershed has funded and supported this project throughout, with additional assistance from TAB School, Worthing Borough Council and many other parties. Residents have already said, "It looks good and feels like a proper village again".
Join our live pollinator event this February
'Who Loves a Pollinator? 2021', is an extended webinar event with live music and a Q&A session, hosted by WSCC.
The decline in pollinators throughout the UK means we all must work together to save an important part of our ecosystem.
Join bee expert Professor Dave Goulson, The Sussex Wildlife Trust, guitarist Richard Durrant and WSCC's Youth Cabinet to delve a little further into how we can all love pollinators more. There'll also be contributions from the council's Sustainability and Highways teams.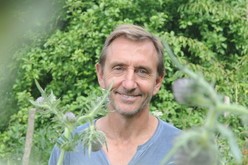 Dave Goulson is Professor of Biology at University of Sussex, specialising in bee ecology. He has published more than 300 scientific articles on the ecology and conservation of bumblebees and other insects.
He is also author of Bumblebees; Their Behaviour, Ecology and Conservation, published in 2010 by Oxford University Press, and of the Sunday Times bestseller A Sting in the Tale. This was followed by A Buzz in the Meadow in 2014, Bee Quest in 2017, and The Garden Jungle in 2019. Goulson founded the Bumblebee Conservation Trust in 2006, a charity which has grown to 12,000 members.
Professor Goulson will be speaking on how we can play our part in 'Averting an Insect Apocalypse'.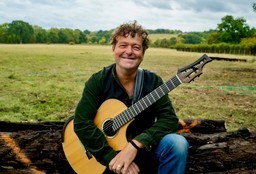 Sussex born composer and guitarist Richard Durrant studied at the Royal College of Music. His lifetime of touring and writing has so far defied categorisation although his latest album "Rewilding" clearly shows his green credentials. In an attempt to partly offset the carbon footprint created by a lifetime of touring, Richard usually undertakes his midsummer UK tour by bicycle carrying the entire show in panniers and trailer.
Richard Durrant's album "Rewilding" is beyond beautiful. -Isabella Tree (author of "Wilding")
My new favourite guitarist…Richard Durrant sits completely outside the accepted genres. He has a peculiar and wonderful mind. -Tom Robinson BBC6 Music
Everyone with an interest in becoming more pollinator friendly can take part in this free, online event on Thursday 18 February 2021, starting at 7pm. Click the link to sign-up.
Last few spaces remaining!
More information on WSCC's commitment to pollinators can be found on the main website.
Works on Warnham bridleway
After works were undertaken on Warnham Bridleway, residents have contacted us to show their appreciation.
"As Horsham residents, we like to get out walking and riding our bikes in the area and have been pleased to discover many new paths and tracks due to the lockdowns in our local area.
We want to say thank you to the people that have worked on the new Warnham Bridleway. This has been well thought out…we have used it for both purposes [walking and cycling] and felt that it was right to say thank you to your team for what is a real bonus to the area."
A new pedestrian crossing in Crabtree Lane, Lancing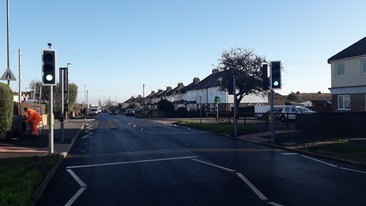 This crossing uses the latest LED technologies to ensure longevity and better energy efficiency. Reactive detectors were installed to hold vehicles at red if people are crossing slowly or arriving late, and cancel demand if the pedestrian leaves the area, allowing traffic to flow effectively.
Audible bleepers and rotating tactile cones were also installed to aid visually impaired users, while high friction surfaces and new road markings/lining were replaced, to ensure additional safety.