West Sussex – the latest news from the County Council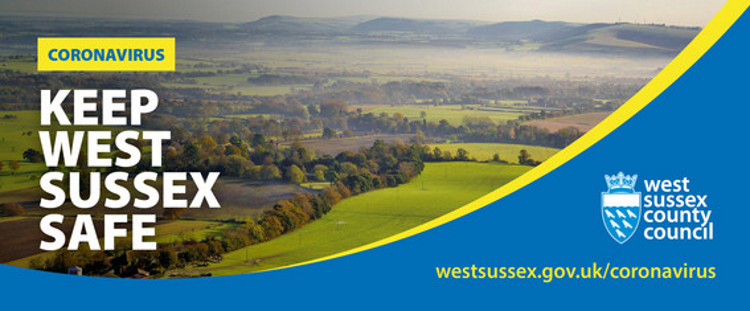 COVID-19 update
Listen to Dr Tony Hill, Interim Director of Public Health at West Sussex County Council, talk about schools reopening, testing for parents and pupils, and what we need to remember as we move closer to coming out of lockdown in June.
Listen to the Keep West Sussex Safe podcast.
Please remember, although we are seeing a steady decline in the number of new cases both nationally and across the county, new cases are still being reported and national lockdown restrictions still apply.
Everyone should continue to follow the sensible measures in place to help prevent the spread of Covid-19, such as handwashing, social distancing and wearing face coverings. It is important that we all keep doing our part to prevent the spread of this virus.
If you think you may have any coronavirus symptoms, isolate immediately and book a Polymerase Chain Reaction (PCR) test. Book a test by visiting our COVID-19 testing 'What to do if you have symptoms' page or by calling 119 to get an appointment to visit a test site.
You can get further information on the infection rates in your area by visiting our West Sussex COVID-19 Data Dashboard.
We also have updates to the images we use across our social channels as well as posters which you can find on the Keep West Sussex Safe section of our website.
Please share this information with friends, family and people in your community who might not otherwise see it.
Thank you for your support and let's continue to do all we can. Stop the spread of coronavirus. Act like you have it. #KeepWestSussexSafe
Early Help service redesign consultation
We are seeking your views as part of a formal consultation to redesign the Early Help service.
The Early Help service provides support to children and families who are facing any number of challenging circumstances, working to ensure every child has a safe environment in which to thrive.
The series of changes being proposed are designed to:
Maintain Early Help services from 11 of our 43 Children & Family Centre buildings; at least one centre in each district and borough of West Sussex
Increase the support and focused response to vulnerable children
Ensure families have access to the most appropriate support, including closer working with schools
Protect a full-time drop-in service for young people in each district and borough by merging our 12 Find It Out (youth) Centres with our 11 Children and Family Centre's
Stop providing group work: For example stay and play groups where parents can engage in play sessions with their children, focusing our attention where we know we make the biggest difference; going out to support the most vulnerable children and families in the community.
The consultation opened on 8 March 2021 and runs until midnight on Monday 17 May 2021.
More information on the proposals, including video explanations and details of how people can take part in the consultation can be found on the Early Help Redesign project webpage.
If you would like to hear further information about the proposals from our Department Leadership Team, we would encourage you to join one of our virtual consultation events, which are taking place on the following dates and times.
Saturday 13 March 2021, 10.30am to 12.30pm
Wednesday 17 March 2021, 3pm to 5pm
Monday 22 March 2021, 6pm to 8pm
Thursday 1 April 2021, 12noon to 2pm
It is important that everyone can express their views on proposals which impact their lives and the lives of the people they work with.
Please take this opportunity to complete our consultation survey so we can make informed decisions about the future of our Early Help Service.
COVID-19 vaccinations
675,879 vaccinations have been delivered across Sussex up until Sunday 7 March. NHS England now publishes weekly data on the number of vaccinations delivered which you'll find broken down to Sussex-wide level.
You can find out more on their website here.
Latest updates on the Sussex vaccination programme include how the vaccine is now being given to:
people aged 55 or over
unpaid carers
people on the GP Learning Disability Register.
It's important everyone with a learning disability checks that they are on the register and asks their GP to go on it if they are not. We are working closely with the NHS and other partners to identify anyone else with a learning disability who is not registered.
Carers over 18 in receipt of Carers Allowance or registered with their GP as a carer can now book their vaccine appointment. Carers registered with the local authority or with a carers organisation will be invited to book shortly. An application process for any other eligible carers is being developed nationally and more details will be provided once confirmed. More information for unpaid carers is available on the Sussex Health and Care Partnership website.
The full list of those currently eligible to be vaccinated and how they can receive their jab is available online.
Second doses
Vaccination services are preparing to offer second doses. While the first dose of the COVID-19 vaccine gives a good immunity to the virus, two doses are needed to have the best chance of full protection. Second doses are being scheduled up to twelve weeks after the first. It is really important that people get both doses to get the greatest benefit from the vaccine.
Continue to follow government guidance after vaccination
Whilst having the full course of the vaccine will reduce the chance of people suffering from COVID-19, they may still be at risk of catching it and spreading it to other people. Therefore, it is important that everyone is reminded to continue to follow current government guidance to stay safe.
This video explains why: What should we do after the vaccine?
We are introducing a number of measures to reduce queues, take pressure off nearby roads and save residents time when visiting our Household Waste Recycling Sites (HWRSs).
We have extended our Summer Opening Hours this year to begin today (Friday 12 March).
In addition we are implementing a trial booking system at certain sites which will help reduce the impact on nearby highways, businesses and residents. The trial has been confirmed for residents visiting Bognor Regis, Crawley, Horsham, Littlehampton, Shoreham-By-Sea and Worthing sites.
From Monday 29 March residents planning to visit these sites will need to pre-book their slot in advance, either online or by telephone. The trial is designed to allow residents to safely dispose of their recycling and waste, limit their waiting times at these sites and help reduce traffic disruption. When live, slots can be booked up to 14 days in advance and residents will be able to make one trip in a week (Monday-Sunday).
Once the booking system is available, residents will be able to book a visit within a timeslot online, by visiting the West Sussex website or by calling the contact centre.
More information on summer opening hours are available on our website and further details on how to book will be available here.
Residents are reminded that at this present time we are still in lockdown and our sites are open for essential trips only.
Great start to school returns
More than 96% of primary school children in West Sussex returned to class on Monday (8 March) as the full return to school began nationally.
Attendance at all primary and secondary schools in West Sussex was 72%, higher than both the regional and national average as secondary schools begin the testing of pupils prior to them returning.
The County Council will work with West Sussex schools, who will be given a range of support including funding to identify and support pupils who have gaps in their learning.
We are also introducing new mental health staff, and resources to support pupils with their emotional wellbeing in schools, with more information to be provided shortly.
Students and their families can find information and the latest advice on education in West Sussex, including on testing and the use of face coverings, on our website.
Worried about your energy and utility bills?
If your finances are under pressure, or you're worried about paying your bills, the Citizens Advice services in West Sussex are working in partnership with West Sussex County Council and others to help you keep your family and children warm.
Citizens Advice can check if you're eligible for grants or money to help you pay your energy and utility bills, and arrange emergency fuel vouchers. They can also help you to make sure you're on the best tariff for you. If you could be getting a better deal, they can support you to make the switch. They can also offer advice on using less energy in your home.
It's easy to get in touch, just visit your local area's website for more details:
Crawley, Horsham, Mid Sussex, Adur and Worthing areas: www.advicewestsussex.org.uk
Arun, Chichester, Bognor and Littlehampton areas: www.arunchichestercab.org.uk
Make a difference. Work in care
The COVID-19 pandemic has shone a light on the amazing efforts and dedication of people who work in social care. More care workers are currently needed across our county.
If you'd love a rewarding job offering regular hours, job security and career opportunities then consider working in care.
The friendly team at Proud to Care West Sussex can help you find your perfect local job. You don't need to have worked in care before, you just need to love working with people and want job satisfaction.
Take action for young carers
Do you work with families in West Sussex? If so, please help us identify young carers who could be entitled to help and support.
It's 'Young Carers Action Day' on 16 March and we are highlighting our West Sussex Young Carers Family Service. This service provides young carers (under 18) and their families with phone and online responses, delivering emotional and practical support, advice and information along with a variety of (currently online) group activities aimed at developing skills and building confidence.
The team is also on hand to provide a consultation service to other professionals working with families where a young carer has been identified.
For young adult carers, there is the Shine Team at Carers Support West Sussex, which is a service dedicated to providing support to 18–25-year olds looking after a family member or friend who depends on that help.
For more information contact:
West Sussex Young Carers Family Service:
Email – youngcarers@westsussex.gov.uk
Phone: 0330 222 5010
Carers Support West Sussex Shine service
Email: info@carerssupport.org.uk
Phone: 0300 028 8888
Website: www.carerssupport.org.uk
Live, visit or work in Shoreham? Have your say on walking and cycling plans
Have your say on plans that aim to bring improved air quality, increased safety and better opportunities for walking and cycling in the Shoreham area.
Residents, businesses, visitors and commuters are being asked to share initial thoughts on what ideas could work in the Upper Shoreham Road, Middle Road and Eastern Avenue area.
The initial public engagement campaign runs until Friday 26 March.
We're taking this step after recent surveys and engagement showed interest in what local cycling facilities residents would like to see in the area.
The feedback provided in the coming weeks will help produce more detailed proposals if there's support for the plans to be developed. The County Council, local MP and County Councillor will continue to work together while listening to residents as we move ahead.
The proposals include suggestions for a safer route linking Shoreham and Lancing and helping students to travel from their homes to Shoreham Academy and Sir Robert Woodard Academy.
Know someone who would like to receive this eNewsletter?
If anyone you know who would like to sign up for this bulletin, please forward this eNewsletter to them and they can sign up here. Thank you for your support.